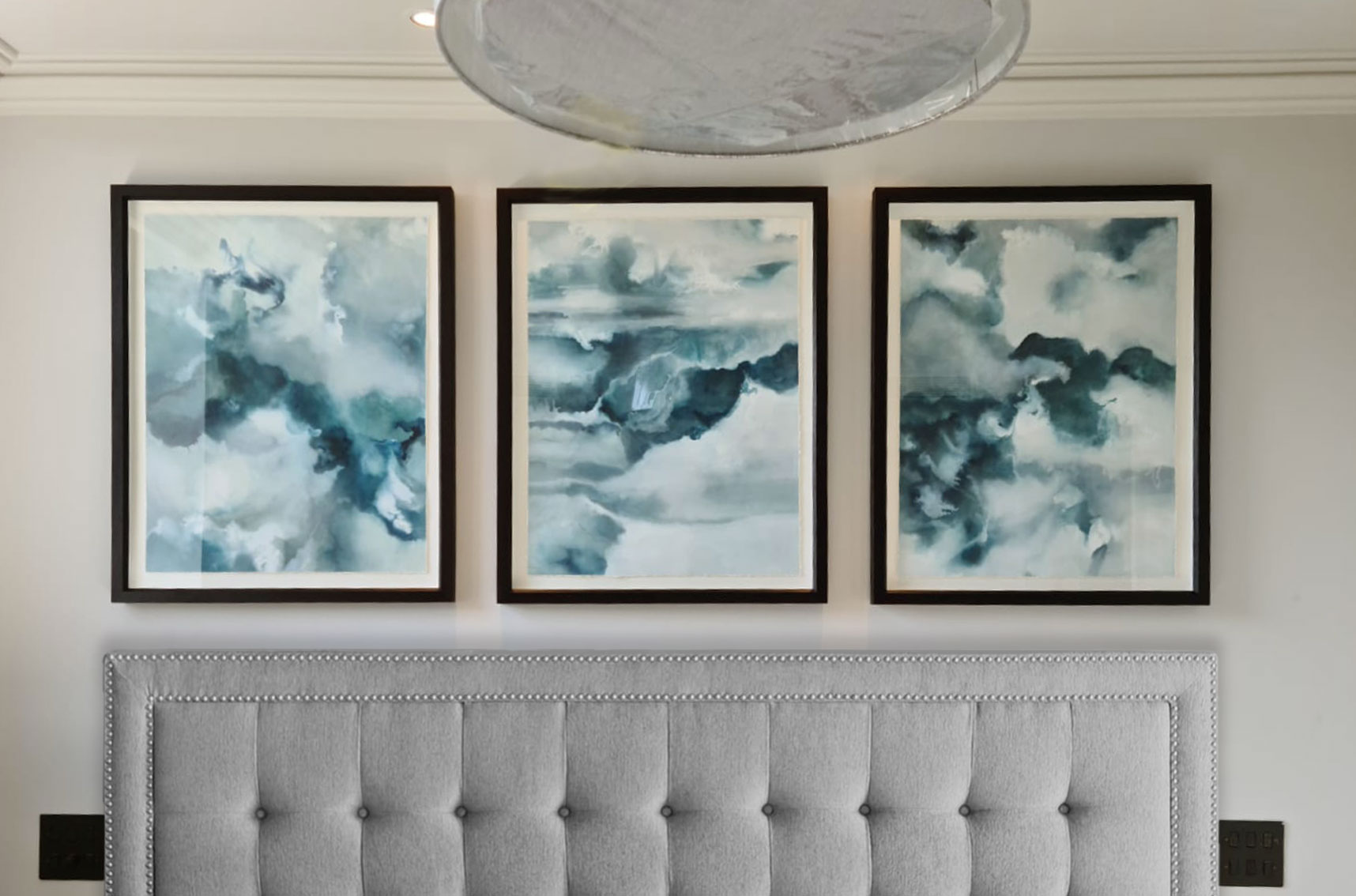 How to decorate a bedroom wall
Your bedroom is where you want to relax, where you want to unwind and where you want to be inspired to get up in the morning. Creating something that is 'you' but cooperating all of these other essential elements together can seem tricky at the best of times. You don't want your bedroom wall to feel cluttered, but having nothing there at all wouldn't highlight your personality enough. It's all about finding the right balance.
In this blog, we will discuss how to decorate a bedroom wall and make it to your taste. We have got ideas for people who want to splash out, for people on a smaller budget and some great tips and tricks for you to take away.
Large scale art 
Large scale art is perfect for replacing a headboard as it sets attention to the bed and can bring a certain feel to the room. You could go for a vibrant piece, or a black and white shade scheme to keep to a minimalistic feel. Large scale art can be on the more expensive side, but you can always pay in installments and it will stay for your entire life. If you get bored of the art, you can always change the framing to fit with a new design of a room.
Make your bedroom wall a small gallery!
A gallery wall can add personality and colour to your home, whilst remaining classy and contemporary. If you've got a lot of art pieces, this is a great way to put them to use. Even art that doesn't go together, you can make work. If something doesn't fit, choose a frame that makes it fit. The type of frame around the art piece is as important as the art. You could go for a minimalistic feel with a plain black theme, or go more elaborate with an artistic frame to harmonise with each piece of art. You could also take the art pieces up to the ceiling to make the bedroom seem larger.
Use wallpaper
If you don't plan on putting anything on the walls, why not choose some wallpaper? You could try out something bright and bold by going for a flower design or bringing in a repeated patterned wallpaper. If you've got an artistic eye, maybe you could try creating your own feature wall, for example, you could paint on polka dots. You could even try decorating your ceiling with wallpaper too.
Have a tapestry
Hanging a tapestry from your wall can bring a feeling of softness to a bedroom, especially if your room is already quite sharp. In addition to this, a wall hanging can add a pop of colour or pattern, without feeling too abrasive. If you move around a lot, these are a lot easier to remove and put somewhere else to give you that homely feeling again.
Hang up mirrors
If you're in a small room, mirrors can be a great way to make the space feel bigger, lighter and brighter. You could buy some mirrors that have flair added to them, such as an artistic framed mirror. You could choose to have a large-sized mirror or a few smaller mirrors, it all depends on which look you want to go for.
Install shelving
Shelving is a great way to store any books, sculptures, candles and more. A shelving unit is a great way to store all your aesthetically pleasing goods so that all your items that have been stored in the attic can have a new lease of life! You could have floating shelves, enclosed shelves for a more minimalistic feel or even create your own shelves from old wooden boxes!
Hanging plates
Waiting for a special time to use your fine china is a waste of having the china! Why not show it all off by putting them on the wall? You can use wire plate hangers to display your favourite dishes with beautiful designs that act as a form of art. 
Display sculptures
Who said that what you hang on your wall has to be flat? You could add a shelving unit to place sculptures that will draw the eye and give a contemporary look.
Thank you for reading our blog 'How to decorate a bedroom wall'. If you would like an art piece for your bedroom, get in touch with Artistic Licence today.