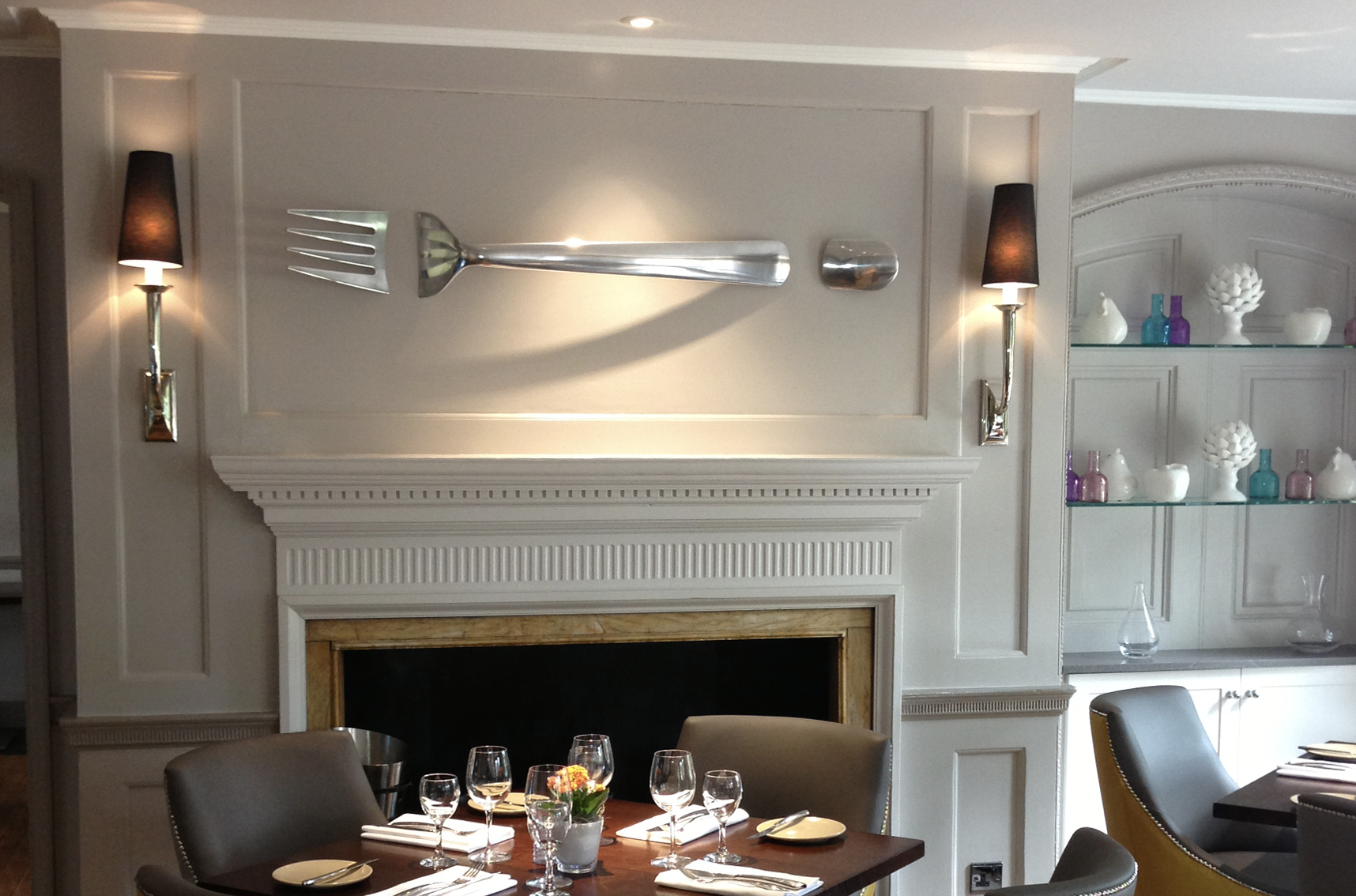 Restaurant interior design ideas
You've got all of the pieces together to form your ultimate business venture: a new restaurant. Now it's time to fill your, and your customer's heart with the ultimate interior design style. You want to be able to wow people when they walk in the room, but what way is best to do this? Do you stick to a certain theme, or do you want to wow people with your expertise in making something that shouldn't work, work? 
One thing is for certain, you cannot leave your walls bare. If you're looking for some standout, yet inviting artwork for your restaurant, get in touch with Artistic Licence today. 
In this blog, we will discuss 8 different interior design styles that will make your restaurant stand out!
Typography
The most common form of artwork in restaurants is typography, while we would always say to go for something different and not follow the sheep, this artwork is always a safe option (and cheap too). You could go for bold graphics, diagrams, charts or marquee letters to type out your design. You could even change this to be more suited to you, you can use typography in any way you want, embrace the restaurant you have always desired! 
Go to local small businesses for artwork and inspiration
Since you will mainly get locals coming into your restaurant, there is nothing more precious to them than supporting the local business around. We suggest getting an expert opinion from your local artist, you may even get an extra customer by doing this! 
Artistic licence does a great variety of different artworks that could work perfectly in your restaurant. 
Murals
Why not hire an artist to paint an intriguing mural? Murals are not only great for making a dull wall aesthetically pleasing, but they're also great for publicity. There's nothing more that youngsters love than to post a selfie of themselves in front of a big art piece for social media. A great-looking restaurant makes people drawn towards it and if people are posting this on social media, it could reach hundreds, even thousands of people. 
Plants…everywhere
As the climate is dying outside, why not bring it indoors! Indoor plants are really in fashion at the moment, especially real ones. Not only do plants create a calming environment, but they also purify the air. It also signifies freshness and quality, which is what people want to see when they go into a restaurant.
Behind the scenes
Cooking in front of your guests makes them gain trust in you as they can see that your area is clean and that your ingredients are fresh. As well as this, the aromas from the dining kitchen will make your customers mouth water and leave them wanting more. If you don't have the appropriate space to do this, maybe try to cook or display a few items near the seating area, like some cakes for example.
Less is more
Sometimes, minimalism can go a long way. If you want to keep this look, go for a simple colour scheme, clean lines and natural materials. Going simple can be great, but it also means that people will notice the small things like unclean tables, a candle in the wrong place etc. A great way to create a less is more feel is my having minimal furniture but having a matching colour scheme, with some decorative art on the wall. Artistic licence have done some wonderful art for many people, keeping to minimalistic colour themes. Take a look at one of their art pieces at the Albert Hall Mansions in London by clicking here. 
Where are you? 
You might decide to base your theme around what your restaurant is about. For example if you were in a fish and chip shop you might want to centre the theme around the seaside. The other side of this is if you're doing pizza, you might want your theme to be based around Italy. Artistic License has done a wonderful comic book piece, showing pizza for a family-friendly look, you can view this by clicking here. 
Food, food, food!
You might want to centre your ideas around what a restaurant is for- food! Think sculptures of food or artwork of people eating, wooden spoons for table numbers etc. Artistic Licence did a great art piece for a restaurant- a giant fork on the wall, you can take a look at this piece for inspiration by clicking here.
Thank you for reading our blog 'Restaurant interior design ideas'. If you would like a timeless art piece for your restaurant, take a look at Artistic Licence today.